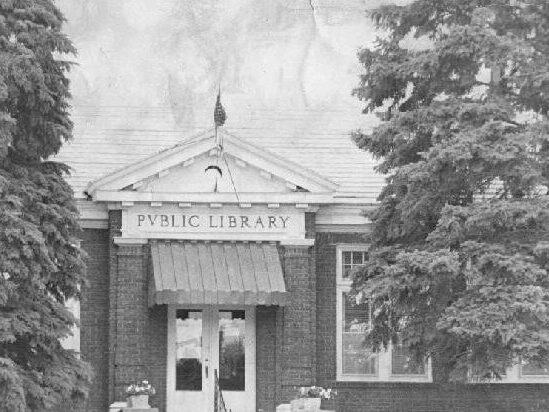 The Kirklin Public Library was the culmination of the free library drive started in 1913 by the Double Six Club, a women's social organization that wished to undertake a project that would benefit the community, especially its children. The club mentioned the need for a library but did not think it possible because of the amount of money necessary to establish and maintain it.
When the club found that Carnegie money was available for library construction, one of its members donated a building site. In February 1914, a representative from the Indiana Library Commission spoke to townspeople about how to levy a tax for library use and about choosing a library board. Five board members were immediately elected, and soon secured a one-mill tax levy (one cent per every thousand dollars of assessed property value).
With the necessary maintenance funds voted for the library, the Board readily secured a $7,500 grant from the Carnegie Foundation in May 1914. The grant did not cover the town's street assessment, but another meeting raised over $1,000 from twenty citizens for this purpose.
During the time the plans were being made for the library building, the "library" was housed in a vacant room over one of the local stores. The space was donated by one of the Double Six Club members and books were provided by a "book shower" which resulted in over three hundred volumes. Volunteers operated this library for two afternoons a week for the eighteen months before the new library building was completed.
In June 1914, the Library Board asked for bids from three architectural firms: Brookie & McGinnis and Johnson & Shriver of Indianapolis, and Austin Bond of Carmel. Brookie and McGinnis won the contract, making Kirklin Library one of ten Carnegie libraries that the firm had built. The building was completed in June 1915 and dedicated in December of that same year. The oak circulation desk and swinging walnut screen/glass doors, that were purchased in May 1915, are still in use today.
In May 2001, the Kirklin Public Library received a Community Focus Grant for $450,000 for the library renovation and expansion project. Bonds, totaling about $700,000, were sold to pay for the remainder of the project. It was a $1.2 million dollar renovation project that started in October of 2001. Groundbreaking took place on Saturday, November 3, 2001. This more than doubled the size of the library and was completed by the end of 2002. The renovation added a new handicapped accessible entrance, a large program room, a beautiful children's area and adult area. Computer terminals and a beautiful, spacious area for lounging were also added.